As a licensed Optician, my job is to fit you with lenses that will afford you with the best possible vision outcome. When you're in the market for new prescription eyeglasses, you can either purchase them from an online retailer or you can purchase them in person from a licensed optician. Although purchasing online from the comfort of your home is certainly an appealing idea, there are several reasons that this may not be the best option for you.
Here are 10 reasons why I recommend that you buy your prescription glasses locally and in person.
Where should the optical center of your lenses be? In the center of the frame or your eyes?
The Optical Center is the point on the optical axis of a lens where all rays passing through it remain unrefracted. Simply put, it's the sweet spot on your lenses where you'll see most comfortably through. For the lab to create your new lenses, this is a measurement that they need to have.
Trying to measure where this is for yourself is very challenging to do. There are tools and resources online that have you staring in the mirror and then looking at your nose and what not but the reality is, this is not an effective way to do it. In fact if you tried that test a long with a few other, I suspect you'd end up with 3 different measurements! When you buy your lenses from a licensed optician, you can rest assured that we have the tools and the skill to measure where this is for you.
If your Optical center is measured incorrectly, you can have eye strain, poor vision, headaches, and even nausea.
Lenses are lenses, right? Wrong.
At Young's Optical, we offer 30+ high quality lens options. Which one is best for you? When you come in, we spend some time chatting with you about your lifestyle: How much time do you spend on devices? What are your hobbies? Do you read a lot? These questions help us determine which of these options is best for your unique needs.
Adjusting your own frames is never a good idea.
When you purchase your glasses from Young's Optical, we'll adjust them, so you don't have to. We'll make sure they sit comfortably on your face, to ensure you won't have to constantly reposition them throughout the day. When you try to adjust your own frames, you run the risk of breaking them or permanently distorting them.
If you've purchased your frames from us, we offer complimentary adjustments! You can book an appointment to have them adjusted right here.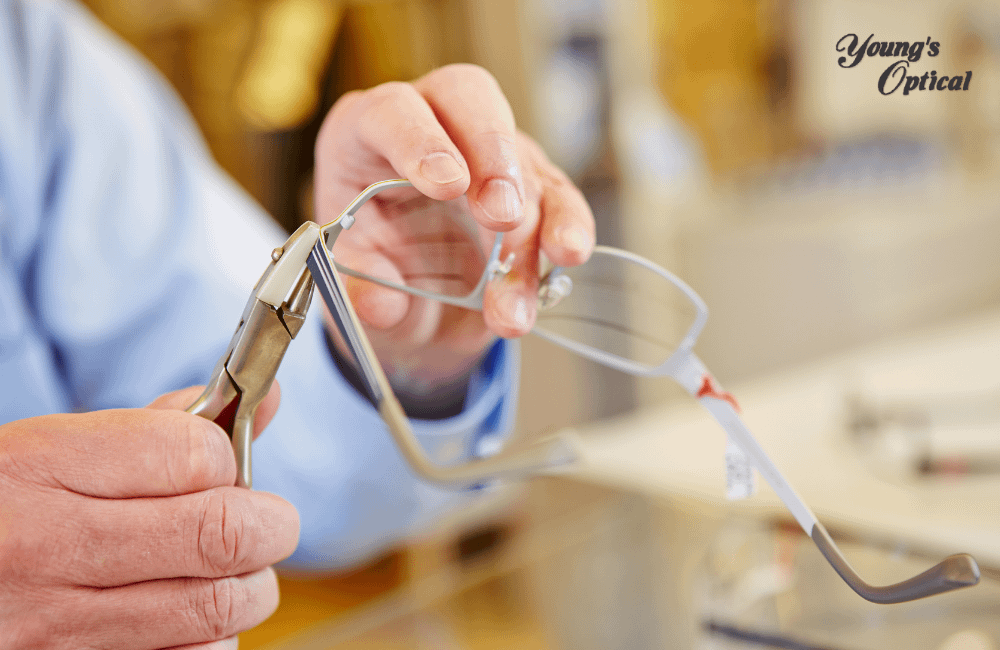 When you purchase your eyeglasses from Young's Optical, we offer a one year warranty.
Warranties are 1-year manufacturers defects (for frames) and 1-year scratch resistant warranty on lenses (if lenses are dropped or abused, they are not covered under warranty)
We'll direct bill your insurance company.
If your insurance provider offers this option, we're happy to bill them on your behalf.
Prescription Accuracy.
The first thing we do when we receive your lenses from the lab (before we even call you!) is double check the prescription – mistakes can happen and we want to make sure you're wearing the correct prescription.
Try on a variety of frames.
Buying in store gives you the opportunity to try on a variety of different frames to not only see how the style fits you, but how they feel on your face. You'll be wearing these glasses for up to 18 hours a day, so you'll want to make sure that the ones you choose look and FEEL great.
Multifocal challenges.
Bifocals and progressive lenses present additional challenges when purchasing online. Fitting these multifocal lenses require additional measurements so the different optical zones of the lenses are perfectly positioned for clear, comfortable vision at all distances.
Ongoing support.
Over time, the screws may loosen or perhaps the temples get bent and require an adjustment – we're happy to offer this to our clients for no charge.
Outstanding Customer Service.
When you shop at Young's Optical, you're supporting a local business that's committed to going above and beyond to ensure you're happy with your experience! To ensure safe, comfortable shopping we encourage you to book an appointment. When you book your appointment, you'll arrive at a clean, sanitized shop where you can try on frames without having to worry about navigating around other people while trying to maintain distance. You'll be able to devote your attention to finding your new glasses and we'll be there (maintaining distance) to help you pick them out. Once you leave, we'll sanitize everything you tried on so it ready for our next customer.